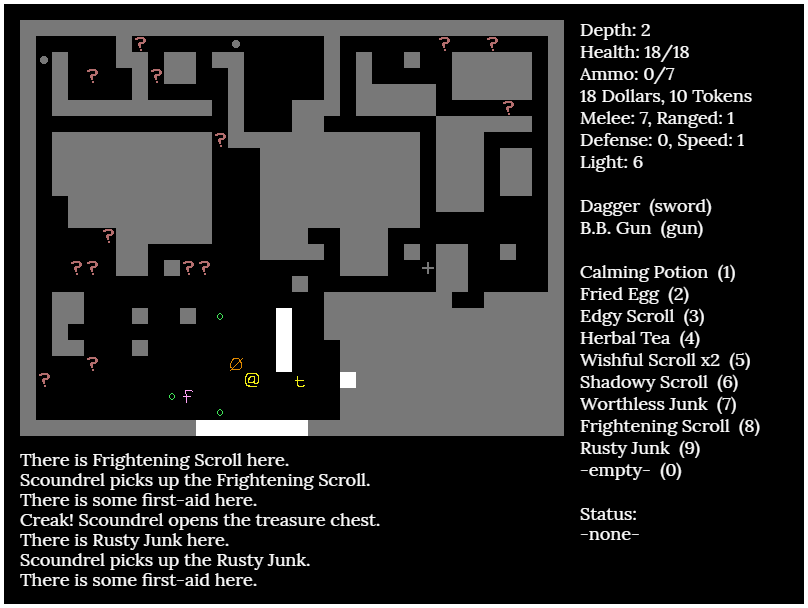 Back in March I did the Seven Day Roguelike game jam and ended up with a completed game: Dungeon Scoundrel. That's amazing to me; I entered with the intention of just making a little tech demo for the bigger roguelike I'm planning, Dog Rogue. Here are some thoughts about the design of Dungeon Scoundrel.
The Level Generator
The level generator in Dungeon Scoundrel is very simple but it does a reasonable job of making interesting spaces. When it makes a level it does the following:
Do a drunkard's walk with a 60% chance of moving forward — unless doing so would move off the edge of the level, in which case it always turns. Anywhere the "drunkard" walks is open space.
After the drunkard's walk is finished there's usually one or two hallways that abruptly end, where the walk terminated or turned 180 degrees. We can easily find these by looking for open tiles with exactly one adjacent open tile. To make this look more natural, it places a door there and grows a room with no other connections.
Fix any tiles with a diagonal exit by filling them in. Since the game has 4-directional movement, such an exit might be confusing. This doesn't work perfectly — every so often I see a problem this should have fixed — but I haven't gone back and investigated it.
Randomly draw from the open spaces to get the player's starting location, the stairs, monster spawn locations, and treasure chests. Originally I wanted to ensure every area in the level had at least 1 treasure and monster in it but I didn't have enough time to do that, so it's just random.
If the either set of stairs isn't reachable from the player's starting location we reject the level and start over. This can happen when step 3 places a wall that cuts the level into two parts.
Unknown Items
A lot of roguelikes deliberately obscure what each item does. For example, an "effervescent potion" could do one of many things, and you won't know what it is until you try it. Maybe it heals you, maybe it makes you turn invisible, or maybe it explodes. And which potion is which changes from game to game, so you can't look up what effervescent potions do in advance.
In principle this sounds like an exciting mystery, but in practice it's often tedious. Every time you start a new game you have to go through the hassle of trying a bunch of stuff in a safe area just to gain a little information. Otherwise you're essentially gambling that the potion will be the one you want when you drink it.
In Dungeon Scoundrel I still wanted to let the player have a little of this fun. My solution was to keep everything the same from game to game. So an effervescent potion's effect never changes. A beginning player can try to solve the exciting mystery, and an expert player can just cut to the chase.